Not sure if SEO vs PPC which would be better for your company? Which is better, google ads (PPC) vs SEO, is a topic we are asked quite a bit about. This isn't a query that can have a generic response as it really relies on your current circumstances, goals, and marketplace.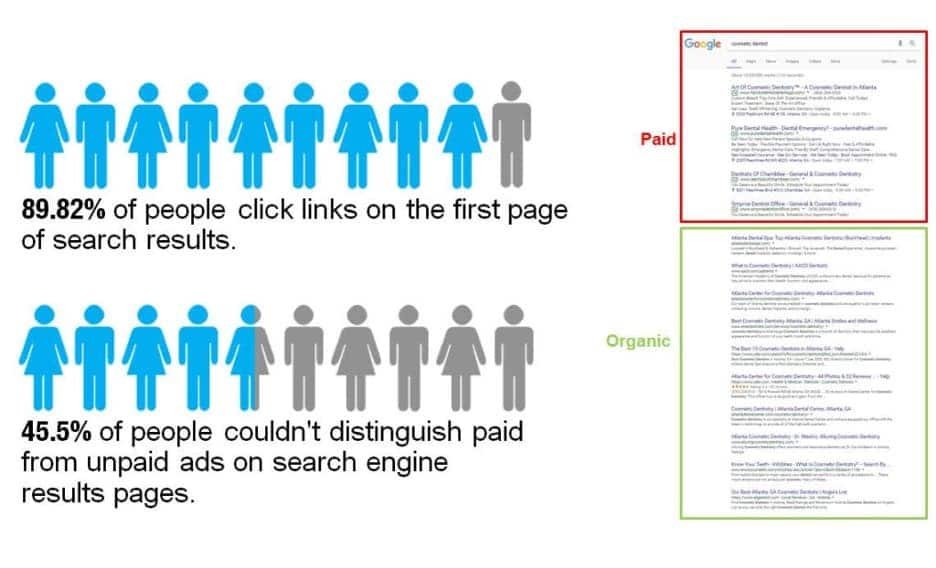 There are a few key distinctions to take into account when deciding how to spend your time 
and money on online marketing, such as the differences among (pay-per-click) ads and (search engine optimization).
The more relevant your website is to users, the higher it will rank on Google Search. PPC ads, such as Google Ads, are sponsored online ads that let companies and owners like you bid for the opportunity to display an ad beside queries on Google.
SEO Vs PPC 
Search Engine Optimization 

The process of providing information on your website that may increase its exposure to search engines and their users is known as SEO (search engine optimization). In other words, SEO can make it so that your site appears more frequently in pertinent searches.
When attempting to increase the SEO of your website, there are several things to watch out for. To get you started, consider these suggestions:
Ensure that the content on the webpage is understandable, informative, and descriptive.
Use basic, easy-to-read language to describe your subject.
Include relevant keywords, or phrases you anticipate a user could type into a search engine to find what you have to offer.
Pay Per Click:
PPC adverts that display over organic material in the search engine results pages, or SERPs, can be made using Google Ads, for example. both your own and the organic material of your competitors. PPC demands cost and resources.
There are various types of PPC outside the sponsored ads in search results. including banner advertising , display advertising and remarketing.
Pros And Cons of SEO 
Pros
When compared to PPC, SEO is much more low cost.

The fact that the effects of SEO last a long time is probably its largest benefit over PPC.

Of all the marketing strategies you may use, SEO offers one of the highest (ROI) returns on investment.
Cons
The game of SEO takes time. You can't optimise your website for a massive amount of keywords and hope tomorrow being on page one.

There aren't any easy solutions or short cuts. To achieve exceptional results, SEO calls for considerable effort and concentration.

You are at Google's mercy, which is probably the biggest drawback of SEO. Because of this,

trustworthy SEO companies

refrain from promising top Google rankings.
Pay Per Click Pros and Cons 
Pros
It can be reasonably priced as you only spend whenever a primary user accesses your website. You are free to determine how much money you want to spend.

You can select your audience based on factors like geography, language, and device.

It may take several months for organic search engine optimization (SEO) strategies to show results but you can able to get ppc results instantly. 
Cons
Your PPC campaigns cannot just be set up and left. To achieve the best results, you must put effort into analysing and upgrading.

The creation of successful campaigns can require some practice. Many companies decide to work with a specialised agency.

Visits and clicks do not always result in sales; once a person reaches your website, you must inspire them to "convert."
This seo vs ppc infographics will help you to understand the basic difference between SEO and PPC.
Working collaboratively, PPC & SEO
Can PPC & SEO be merged? Should they work collaboratively?
Absolutely. Both of them drive results independently. If you understand how to work together, results will improve.
For accomplishing your long-term objectives, SEO is perfect. Targeting low-competition keywords will continue to produce results once they start to rank.
PPC achieves short-term objectives. targeting highly competitive keywords that are used by numerous other websites that it will be difficult for you to rank.
Choose your digital marketing strategy between SEO Vs PPC.
Every company has a few objectives that cut across industries. to expand and boost sales. The Internet has provided firms with enormous marketing options. To advertise their merchandise. to market their goods. They must increase website traffic in order to accomplish this.
You will need to spend a lot of money on paid advertisements to sell to customers if you don't bother with SEO vs PPC or if your efforts are unsatisfactory. We think the main strategy is SEO. PPC can help your marketing efforts. Get your PPC advertising live and attract some attention right away if you are having a product launch, promotion, or event.
Collectively, SEO & PPC will increase the number of people who see your content. You'll rank ahead of your rivals. It will increase sales.
How to choose an SEO agency?  
A good SEO agency can: audit a large webpage quickly and effectively. Has the ability to enhance Search Engine Rankings and Domain SEO Metrics on a website. Can conduct extensive keyword research and develop a comprehensive digital marketing strategy. They ought to be capable of explaining advanced backlinking techniques like guest posting. Your internal linking strategy should be defined by a good SEO agency. They should be accessible after hours and provide excellent customer service. The best digital marketing marketing firms never guarantee results.
How to choose an SEO agency
? Does the SEO Agency provide assistance with your SEO campaign? Any good SEO is obsessed with reporting and should be able to provide detailed performance reports. Despite the fact that user reviews can be useful.
The ranking of a website is the main goal of search engine optimization. Through various online channels like sites, social platforms, emails, and other means, digital marketing strives to strengthen and promote the brand.
SEO vs PPC, when it comes to business a question arises which one should prefer? here is the suggestion that SEO provides a higher and long-term ROI and is ideal for local search results. PPC is preferable for quicker results, although it is more expensive. In order to optimize your SERP exposure and achieve better results overall, the best method is to combine SEO with PPC.
Yes, experienced marketers frequently combine PPC and SEO. By finding profitable keywords to targeting, improving meta descriptions and titles, and achieving more visibility in the SERPs, PPC may support your SEO strategy.