Do you prefer to work in web browsers rather than desktop applications?
Google Chrome Browser Extensions can help you boost your web experience (and overall productivity!) by doing everything from blocking distractions to project management.
We've scoured the web for the best Chrome extensions to boost your productivity, whether you're a student, a full-time worker, or an entrepreneur/freelancer.
A list of the best Chrome extensions
proctorio chrome extension
honorlock chrome extension
Grammarly chrome extension
ClickUp chrome extension
Momentum chrome extension
DeepL chrome extension
OneTab chrome extension
zeedrop chrome extension
Nimbus chrome extension
Todoist chrome extension
Proctorio Chrome Extension

Proctorio is a good Learning Integrity Platform that provides verification process and virtual online testing services to over 4,000 college and university, K-12, corporate, and federal universities of the world, with over 30 million exams proctored by 2021. Proctorio's browser extension is compatible with the majority of popular Learning Management Systems (LMS) and 3rd assessment platforms. Proctorio's solution includes a package of Lock Down, Capturing, and Verifying options, allowing exam administrators to tailor exams to their desired level of security. Proctorio has the industry's lowest bandwidth requirements and prioritises user security and privacy through end-to-end encryption.
Proctorio's Benefits
These are some of the advantages of employing this online proctoring system.
It excludes the necessity to visit a physical location to take a test or examination
Proctorio ensures the test's integrity.
It gives exam administrators control over security.
It enables the reporting of any suspicious activity on the learning management platform in real time.
Proctorio's disadvantages
Regardless of how well Proctorio guarantees the authenticity of a test, there is always the possibility of distractions occurring. This can have an impact on the instructor's trust in the test results.
There's a solid argument that it cannot measure mastery of specific subjects because it focuses on fact memorization.
The usage of Proctorio raises privacy concerns.
Honorlock Chrome Extension

Honorlock is on-demand test proctoring software that assists educational institutions in monitoring live exams and preventing students from obtaining unauthorised exam content. Content management, an action software platform, mobile phone detection, performance management, and automated proctoring are all important features. Schools that use Honorlock can authenticate student identity by capturing content on student IDs as well as photos to ensure that the student taking the live online exam is the same student who is enrolled in the desired course. Voice detection technology employs AI to recognize specific phrases or keywords and identify students trying academic misconduct. Furthermore, search and destroy capabilities allow colleges to automatically search the internet for leaked exam content and request withdrawal of the content by filling out DMCA copyright takedown notices.
ClickUp Chrome Extension


The ClickUp Chrome Extension is considered one of the best Chrome extensions for bringing your favourite project management features right into your browser. You'll save time and accelerate your workflow whether you work within or outside of the ClickUp platform.
You can achieve peak productivity with just one feature of the ClickUp Google Chrome extension:
Take notes in Notepad using rich text editing. ClickUp
Save a website as a task after bookmarking it.
Take a screenshot of your entire browser tab or a specific area to add to a task or download to your computer.
Locate and select your task in the extension to begin tracking time.
Attach emails from Gmail or Outlook to tasks and create tasks from emails
Grammarly Chrome Extension
Every modern student has either heard of or used Grammarly at some stage. It is a piece of software that combines the most comprehensive grammar knowledge with:
Spell-checking capabilities
Advanced suggestions
Clarity corrections
and Style changes are all available
On most websites with text fields, the extension will follow you and begin to run as from the moment you start typing.
Grammarly's standout feature
If you're writing an important message and need it to be flawless, Grammarly has a "Plagiarism" section that searches thousands of other web sites for identical phrases or sentences. It's a useful feature for journalists, authors, and, ofcourse, students.
Momentum Chrome Extension

Opening-up Momentum takes you to a page with soothing, inspiring sounds and visuals to help you concentrate and relax. Even better, you can select which soothing backgrounds you want to see. So, if you believe you would work better trying to look at imagery of a wooded area rather than a riverfront, go for it.
Zeedrop Chrome Extension


ZeeDrop is a Chrome extension formed by It has over 20,000 per week active members and a rating of 3.85. ZeeDrop is comparable to Global market Dropshipping Helper and eBay Popularity Sort. The most recent version is 0.0.1.171, which was released 6 days ago. ZeeDrop is currently available only in English. It is currently ranked #4596 in the Chrome Web Store. ZeeDrop has a decent reputation and can most likely be trusted.
ZeeDrop necessitates a number of risky authorizations that could harm your browser or steal your data. When installing this extension, use caution. Before installing, double-check everything. We suggest that you only configure ZeeDrop if you have confidence in the publisher.
DeepL Translator Chrome Extension
The DeepL Translator Chrome extension tries to replicate the success of the DeepL Translator website for fans. However, because it was created by a third party developer, this Chrome translate extension does not have all of the same features as the website. (The DeepL Translator website's developers do not directly offer extensions.)
The DeepL Translator extension provides fast translations, which can be useful when working on large documents or webpages with a significant amount of text.
OneTab Chrome Extension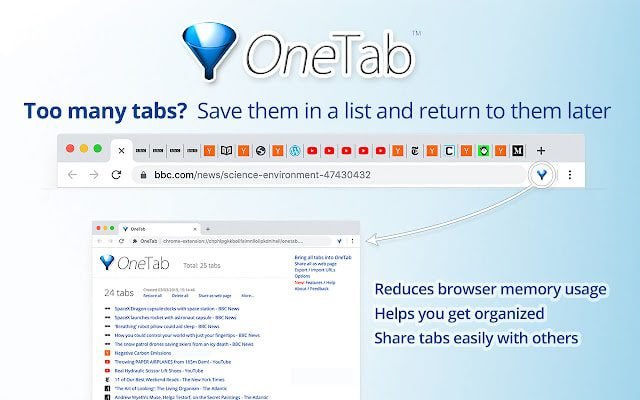 When it comes to tab problems, OneTab can help. Instead of having each of those tabs expand, this Google Chrome extension organises them into a convenient list on a single new tab page. All of the key links you want to use are then just a short click away.
Because you won't have many open tabs, you can save up to 95% of your web browser memory.
No worries, no more tabs. This helps to keep you productive while also keeping your computer clean.
Nimbus Chrome Extension

Nimbus is the ideal solution for anyone who spends a considerable amount of time browsing the web, conducting research, and collecting information. This app allows you to take screenshots and screencasts, as well as video and webcam clips.
Despite the fact that most operating systems include a screenshot tool, Nimbus is made to fulfil all of your needs. It enables you to:
Edit and annotate
trim and crop
Convert videos to MP4 or GIF format.
Report the results online
personalise videos by changing the resolution and refresh percentage
Todoist Chrome Extension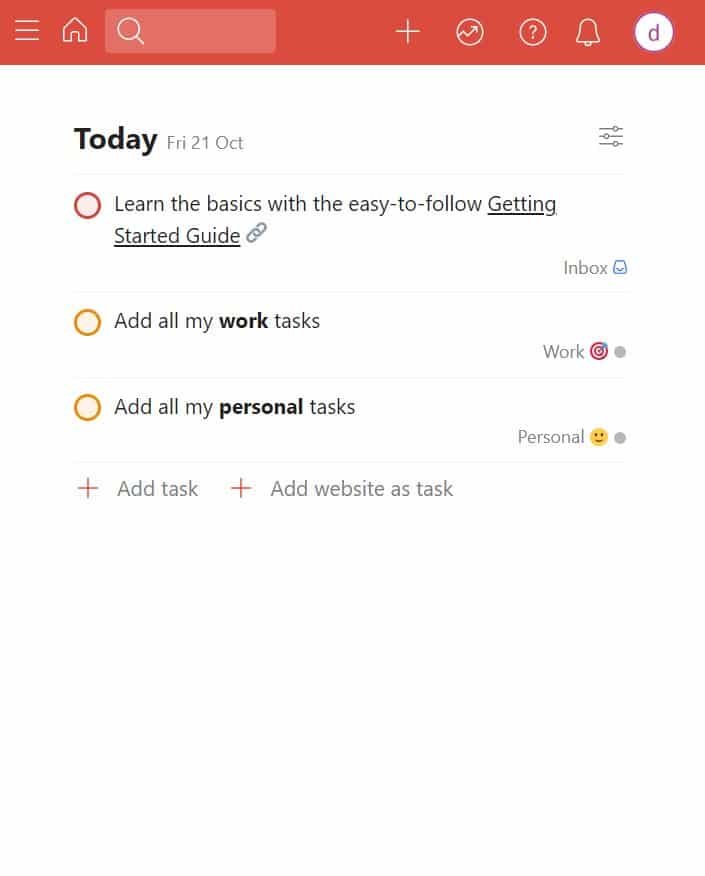 Todoist for Chrome is one of the most popular and effective project management apps. With over 25 million active users, there's really no wonder that this extension provides some significant advantages.
Todoist gets converted each and every link in your browser into a Todoist task. Have you found a blog you'd like to read? You can effortlessly save it to Todoist and return to it later to read it. Do you have an email draught in Google Docs? You can mark the document as a task and come back to it whenever you're ready to complete it.
The possibilities for using the Todoist for Browser extension are limitless. You can see all of your Todoist tasks by clicking on the Todoist icon in your Chrome extension tray.
This extension also enables you to grasp tasks more quickly. Simply highlight any text on the a site, right-click, and you'll have a new task created in seconds.
Conclusion
This is one of the best Google Chrome productivity extensions. As previously stated, the extensions are accessible in nearly every area of way to distract that you may be engaged in covering. Furthermore, they are easily accessible via the Google Chrome store.